Camera Card Data Recovery Specialists
Camera Card failed? Need Your Data? We can help!
Camera Card Technology Basics
Digital Camera Cards fall into two main categories: NAND and Monolithic
NAND camera cards use NAND chips configured on a small circuit board along with a controller chip that controls how and where the data is stored on the NAND chip. There are litterally thousands of different controllers and each one uses a different algorithm to store the data on the NAND chip. There are also several different types of NAND chips. We have the ability to perform all necissary chip off work for all types of NAND chips so that we can successfully recover your data from even the most complicated cases.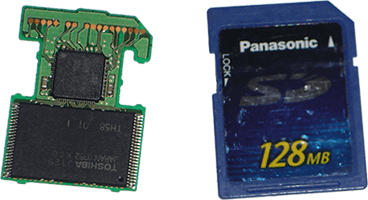 Monolithic camera card technology is the newest camera card technology on the market and is becoming more popular all the time. Monolithic camera cards are a single chip design camera card molded in solid plastic. This design has created many problems for data recovery companies because of the molded plastic that encases the camera cards electronics. The picture below shows the monolithic camera card with the plastic carefully scraped away to reveal the electrical track that we use to gain direct access to the data of a failed monolithic camera card. All Micro SD cards are monolithic and about 40% of the regular SD cards are monolithic.

Monolithic Camera Card after the plastic has been carefully scraped away.
Why Choose File Savers for your camera card data recovery
Because you can't afford to lose your data! Often times data recovery is a one shot deal. If you send your camera card to the wrong company, you may never see your data again.


We won't give up: data recovery is complicated and requires specialized training, equipment, tools, experience, tools and determination to be successful: We promise not to give up on your case until we have exhausted every possible solution to recover your data. We are confident that if we can't recover your data, no one can.

We have all the latest data recovery tools and technology plus our own proprietary data recovery technology, tools and methods to recover files from camera cards most companies can't.

Our customer service is second to none: We keep you updated throughout the recovery process so you know whats going on from beginning to end.

National data recovery leaders because of our research and development team, we gain experience faster than our competition and recover drives that others would call unrecoverable.

We are HIPPA compliant: security and privacy is vital when dealing with important or regulated data. We follow all privacy and security guidlines to make sure your data is kept private and secure throughout the recovery process.


Camera cards are versatile and portable and virtually all modern day cameras use them. SD and Micro SD cards have become the main industry standard but we certainly recover every camera card type including, Compact Flash, XD and Memory Stick camera cards also. Because nearly eveyone uses camera cards today, we are seeing more and more of these devices fail.


We recover camera cards that are physically failed, not recognized, recognized as incorrect size, formatted, asking to be formatted, deleted, water damaged and more. The data chips inside camera cards do fail due to extended usage. They are designed to be able to read and write data to the chips so many times before they start losing their ability to work properly. This results in damaged sectors that increase very quickly until the card fails.


Types of Camera Card Failures

Logical Camera Card Failure:
Camera cards are susceptible to logical failures because they are often connected and disconnected to your computer or several computers. Sometimes, disconnecting a flash drive without properly ejecting it can cause damage to the boot sector, partition, or file system. If your camera card is suddenly asking to be formatted and your confident your drive is not physically damaged, you have a few options.
Attempt Recover Yourself: Go to our Do it Yourself Data Recovery Page.
Remote Recovery by File Savers: Go to our Remote Data Recovery Page.
In Lab Recovery by File Savers: Go to our In Lab Data Recovery Page.


Physical Camera Card Failure:
If your camera card is no longer recognized by your computer, there is a high chance it's suffering from a physical failure.

Physical camera card failures that we see are usually caused by chip, controller or electrical failures from age, abuse or extreme use. If your camera card is not recognized or recognized as the wrong size, we highly recommend that you disconnect it and give us a call for a Free Diagnosis today.
User Error (Deleted, Formatted):
We understand that it's really easy to accidentally make a mistake and delete files or format your camera card. Deleted data or a formatted camera card can often be recovered depending on what you have done since the initial mistake or how you formatted it. If you turned off your camera card immediately, we can probably recover all of your files. However, if you continued using your camera card and copied or wrote any data to the card you have certainly decreased the chance of a full recovery of your files. If you write a lot of data to the card after a format or deletion, your chances of succesful recovery of the data you are looking for is alost zero.
If you accidentally deleted important data or formatted your camera card, we highly recommend you power off your machine or camera, pull the card and do not continue using it until we successfully recover your files.

Most camera cards are formated Fat 32 so they work with Mac and Windows systems but if you have formatted your camera card specifically for the machine that you use to get better performance, we can still recover it.

Camera Card Types

Operating Systems

File Systems

SD Card 
micro SD card
Mini SD card
Compact Flash (CF)
Memory Stick
Memory Stick Pro 
Memory Stick Duo
Memory Stick Pro Duo
Memory Stick M2
MultiMediaCard
Smart Media
XD Picture Card

NAND
Monolithic



Windows
Mac
Linux

Fat 32
ExFat
HFS
HFS+
NTFS
EXT
EXT2
EXT3