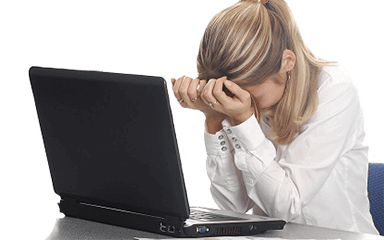 Laptop Hard Drive Data Recovery
In today's world, nearly everyone uses a laptop for their primary computer usage. We've noticed that we're now seeing far more failed laptop hard drives than desktop hard drives. This is mostly because laptop sales dominate the market with their incredible versatility and mobility. Many of the Laptop hard drive failures we see are from accidental drops or general usage and the constant small shocks sustained over time. These small shocks add up
and will eventually make your laptop hard drive crash and totally fail.
Chances are your reading this because your laptop hard drive has already failed and your looking for a way to get all your important files that are stuck on that drive back. The good news is, there is a very good chance we can successfully get them back!
Call Today For a Free Estimate
866-221-3111
IF WE CAN'T RECOVER IT, NONE CAN!
We specialize in laptop data recovery from mechanically failed laptop hard drives. We have recoverd important data from virtually every laptop make and model and laptop hard drive make and model ever manufactured. We have also recovered data from virtually every type of failure including laptop hard drives that are clicking, not recognized, beeping, buzzing, not spinning, etc...
When your laptop hard drive crashes, File Savers is here to help you recover your precious data when others can't. We are a full service clean room data recovery lab. We have the most experienced engineers and the most advanced data recovery equipment, tools & software on the planet. Together, we use our experience, knowlege and specialized tools to successfully recover data from even the most complicated laptop hard drive failures. We also recover all types of logically failed laptop hard drives including; accidental deletions, formats and more. We recover data from virtually every laptop brand and laptop hard drive in existence and from every type of laptop failure including; flood, fire, lightning, electrical failures, dropped, deleted, formatted, etc...
Is Your Laptop Hard Drive Encrypted?
Our engineers are experienced in working with and recovering data from full drive or file level encrypted laptop hard drives. Because laptops are mobile and they are prone to being stolen or lost, many business use full drive or file level encryption to prevent someone from accessing their data in case of an unfortunate event.
Many of the newer Mac computers are encrypted with FileVault encryption and Windows computers are often equipped with BitLocker encryption. We are highly experienced in recovering data from both of these types of encryption tools but if you don't have your password or encryption key we can't recover your files. We are also experienced in recovering data from encrypted drives from third party encryption tools as well.
If you prefer not to have us decrypt your drive, we can return a sector by sector image that you can attempt to decrypt yourself.
Dropped Laptop Data Recovery:
This is one of the highest causes of failures in laptop hard drives. The sudden jolt your hard drive receives when your laptop computer hits the ground often causes the read / write heads of the hard drive to crash into the platters where they often leave extensive damage. We are able to recover from most laptop hard drives that have been dropped..... even if your hard drive is clicking, not recognized, not spinning, beeping, buzzing, etc... We are extremely experienced in dealing with and successfully recovering data from these situations but it is critical that you shut your system down and stop messing with it immediately to prevent further damage.
Warning: Never open your hard drive yourself. Never push down on the lid of your drive. Never put your drive in the freezer. Never tap, hit or drop your hard drive. If you believe your hard drive is failing, turn it off and do not continue to apply power to it. Hard drives are extremely sensitive and can easily be made unrecoverable.