EXPERIENCED

RAID 0 Data Recovery Services
RAID 0 Data Recovery from All Server Brands Including Dell | Compaq | IBM | Lacie | HP | Iomega | G-RAID | Seagate | Buffalo | Western Digital | Maxtor | Apple / Mac & Many More
Why Choose File Savers to Recover Your
IMPORTANT

Data!
Fastest Service:

24/7 Emergency Service available so we can have your data back in your hands fast.

Beyond Certified:

Going above traditional training to solve the most complicated situations.

Trusted & Secure:

HIPPA & PCI compliant so you can trust your data is always safe and secure.

ISO 5 Clean Room:

So dust and debris won't enter your HDD's during the recovery process.

Custom Tools & Techniques: Propriatary tools & techniques to help us recover data others can't.

Highest Success Rates:

We wont stop until we have exhausted all solutions to recover your data.

No Data No Charge:

We stand behind our work. Guaranteed to recover data or there's no charge.





Experienced Engineers:

Means we have seen it all! If it's possible to recover, we'll recover it.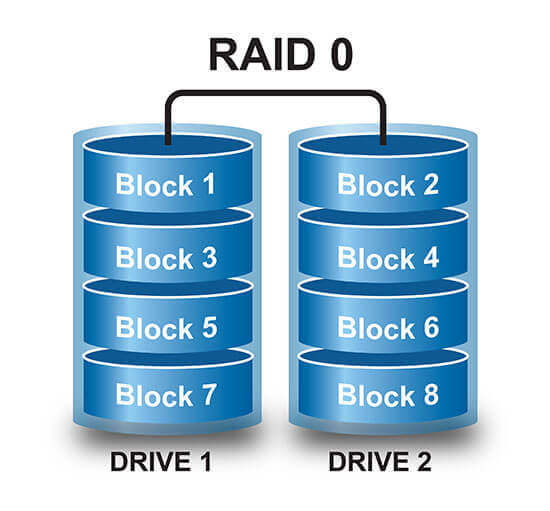 How Much Will It Cost To Recovery The Data From My Failed RAID 0 Array?
The answer is..... It depends! Our RAID 0 recovery prices are based on the number of drives in your RAID 0 array, drive capacity, type of drives, system type, failure, file system and service level. We tend to be the best overall value for all data recovery services in the country and we will beat any reputable data recovery company's price for RAID 0 data recovery.
We need you to call us so one of our RAID recovery specialists can gather the informaiton they need in order to provide you with an initial price quote to start. Our RAID specialists will walk you through the data recovery process and answer any questions you may have. We will provide you with price ranges for the service levels you are most interested in based on the time frame you need or want your data recovered in.
Common RAID 0 Failures
Physical RAID Server Failure
Physical failure of your RAID 0 Server components can leave you stranded without access to your important files that you use everyday. This can include the failure of the following components: RAID 0 controller, power supply, RAM, motherboard or bhackplane. Regardless of the RAID 0 server failure, our experienced RAID engineers can recover your data.


Logical Failure of RAID 0 Server System
Logical failures are when the operating system, IE: Windows, Mac, Linux, Unix, Novell, or VMware system becomes corrupted. A virus, improper shutdown, update or user error can damage the operating system to the point where it fails to boot, boots in a loop, blue screens, etc... At this point, you have no access to your data and you need our Free Diagnosis to determine what to do next.


User Error
Whether the data on your RAID 0 server was accidentally deleted or your RAID 0 configuration was corrupted or formatted, we can very likely recover your files. If a user error occurs, its vitally important for you to stop using it and turn it off. Everything you do after the initial problem greatly reduces the chances of a successful recovery of your data.
Physical Hard Drive Failure of RAID 0 Hard Drives
Physical hard drive failure is when the mechanical parts of one or more of the hard drives in your RAID 0 server fail. These types of failures usually require extensive clean room work to successfully recover your files. If one of your RAID 0 member drives suffer a mechanical failure, you need our data recovery services to recover your critical files. Our engineers have the experience, tools and equipment to repair your RAID 0 member hard drive and quickly recover your files in our class 100 clean room.
Why Choose File Savers for your RAID 0 Data Recovery:
Our experienced RAID engineers have recovered RAID 0 servers and NAS devices from virtually every type of failure. If your RAID 0 can be recovered, we will recover it. We use the most advanced equipment, techniques and tools to assists in our RAID 0 recovery efforts so we can make sure we get your data back as quickly as possible. We specialize in RAID 0 data recovery from all types of media storage brands and devices, file systems, operating systems and types of failures. We also specialize in recovering all data types no matter how proprietary from RAID 0 devices.
About NAS Servers
NAS devices are stand alone external storage devices that are connected to a network via a wired network cable or wireless network connection.

NAS systems have become more and more popular over the years because virtually anyone can add a large storage device to their network quickly. NAS devices are available from dozens of manufacturers and many of them are affordable enough for even the average consumer. NAS systems can be accessed by any computer on the network no matter the operating system which makes them very versitle. Most NAS devices use their own propriatary version of Linux operating system to store their data. NAS devices come in a variaty of brands and storage capacities. Most ranging from 1 to 5 drive systems.

NAS systems are often multiple drive systems that allow the user multiple options for different RAID version setup. NAS devices are a great way to back up your data but they should never be used as the sole data storage solution. No level of RAID can replace the importance of having good backups. Backups are simply a second source for your data. The most common NAS systems we see are set up as RAID 5, RAID 1, RAID 0, RAID 10 or RAID 6.
Operating Systems Supported:




Windows OS





Windows 95
Windows 98
Windows 2000
Windows XP
Windows Vista
windows 7
Windows 8
Windows 8.1
Windows Server 2000
Windows Server 2003
Windows Server 2008
Windows Server 2008 R2
Windows Server 2012
Windows Server 2012 R2
Windows Server 2016
Windows Server 2019


VMware





ESX 4.0
ESXi 4.1
ESXi 5.0
ESXi 5.1
ESXi 5.5
ESXi 6.0
ESXi 6.5
ESXi 6.7





Mac/Apple OS





Mac / Apple
Mac OS X 10.0 Cheetah
Mac OS X 10.1 Puma
Mac OS X 10.2 Jaguar
Mac OS X 10.3 Panther
Mac OS X 10.4 Tiger
Mac OS X 10.5 Leopard
Mac OS X 10.6 Snow Leopard
Mac OS X 10.7 Lion
Mac OS X 10.8 Mountain Lion
Mac OS X 10.9 Mavericks
Mac OS X 10.10 Yosemite
Mac OS X 10.11 El Capitan
Mac OS X 10.12 Sierra
Mac OS X 10.13 High Sierra





Novell OS





Novell NetWare
Novell Open Enterprise





Linux OS





Linux Red Hat
Linux Ubuntu
Linux Debian
Linux CentOS
Linux Fedora
Arch Linux
Linux Suse
Linux MEPSIS
Linux Knoppix






UNIX OS





SCO & Open Server
Sun Solaris
Open Solaris
AIX
BSD/OS
IRIX
Tru64 UNIX
Free BSD
Open BSD
Minix
HP-UX

Hard drive Interfaces we Support

SCSI
IDE/PATA
SAS
SATA
Fiber Channel


USB
Firewire
Thunderbolt
iSCSI
eSATA