Western Digital

USB External Hard Drive Data Recovery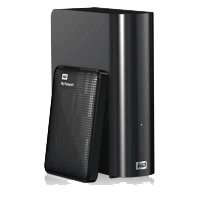 File Savers Data Recovery is a Western Digital external hard drive data recovery expert. We have developed processes and procedures that allow us to recover WD external hard drives that others would simply call unrecoverable. We are able to successfully recover mechanically failed WD My Book and My Passport hard drives of all sizes and models going all the way back to the earliest WD My Book and My Passport drives.
Most people do not know that WD My Book and My Passport external hard drives actually hardware encrypt and decrypt your data on the fly through an encryption chip located on the external hard drives PCB. Most of the My Book and My Passport model hard drives are set up with software from Western Digital called Smartware. This software allows the user to password protect your hard drive in the event it's ever lost or stolen. This is a really great added feature until the hard drive crashes and leaves the user without access to their data. Fortunately, we have special machines that allow us to decrypt the drive during the recovery process if a password was never set. If you did password protect your external hard drive, we can still recover your data but we will need your password to complete the data recovery process.
WD My Book USB External Hard Drive Data Recovery
Many of the WD My Book series drives contain the WD Green drives. These drives are designed to consume up to 30% less energy than other hard drives in its class. The WD My book is shaped like a book standing on end. There are several different models going back to 2007 including the My Book Essential, My Book Pro, My Book Premium, My Book Studio, My Book World, My Book Live and My Cloud. The My Book World, Live & Cloud editions are all (NAS) Network attached storage devices that use different versions of Linux operating systems to store their data. In addition, Western Digital also manufactures a dual drive RAID version of the My Book World, My Book Pro and My Book Premium. We specialize in recovering all of these models and variations.
We have spent years working with and discovering new ways to recover data from failed WD My Book hard drives. We have recovered failed WD external hard drives from floods, fires, earthquakes, car accidents, lightning strikes, drops, and all kinds of other disastrous situations. The truth is.... some of the more significant failures we recover data from are from dropped My Books or My Book hard drives that fail all by themselves during normal operation. When a hard drive is dropped or fails during operation, the read/write heads almost always crash leaving perfect ring shaped scratches in the surface of the platters. This level of damage can and often does make the data on the hard drive extremely difficult to recover or even completely unrecoverable. That's why we recommend shutting the hard drive off if your hard drive ever stops recognizing, starts clicking, or spins and shuts down. Shutting your hard drive off when you experience this type of failure will ensure the best possible chance of recovery.
Western Digital hard drives are built with firmware which is software embedded into the platters and the PCB that control how the drive operates, how it stores its data, how it handles damage and much more. If the firmware of a WD hard drive becomes corrupted, you will lose access to your data. This type of corruption often takes place when a hard drive fails mechanically. This means we often have to overcome multiple levels of failure in order to successfully recover a failed WD My Book external hard drive.
WD My Passport USB External Hard Drive Data Recovery
Western Digital My Passport external hard drives started a new trend in hard drive manufacturing when they ditched the SATA to USB adapter and started building the USB connection right into the PCB. Doing this allowed them to make a slightly smaller external hard drive than all their competition. Again, this has created additional hurdles for data recovery companies and technicians because USB protocols and commands are far different and far less extensive than SATA commands. This means data recovery companies have far less ability to work directly with the hard drive and it's firmware than that of a SATA drive.
To overcome this problem, we developed ways to convert these USB interfaced drives into SATA interfaced drives. This gave us more ability and more options to work with these hard drives at a firmware level. However, like the WD My Book hard drives, Most My Passport hard drives are also hardware encrypted without the client ever even knowing. Again this is done through a small chip on the PCB that decrypts and encrypts the data on the fly. It's there so the client can password protect their hard drive in the event it's lost or stolen. One problem we ran into when converting these drives to a SATA interface is that we also bypassed the encryption chip. This means the sectors we could read through the SATA interface were all encrypted making the data useless for our clients. After continuing our research and development, we figured out a way to decrypt these drives and gain access the data after converting the drives to SATA. This was a gigantic breakthrough and allowed us to recover data other companies could not recover.
The Typical Data Recovery Process From a Failed WD External Hard Drive
A typical data recovery scenario that we see from a dropped or failed WD external hard drive is failed read/write heads. The typical failure symptoms on these drives varies depending on the drive model and seriousness of the failure. The worst case scenarios are when the hard drive clicks a few times then shut down the motor. This usually indicates that we are dealing with a very serious head failure along with significant platter damage. To recover the data from these failures, we first have to overcome the physical problems related to the head crashes in our ISO 5 class 100 clean room. Once the initial physical damage has been overcome, we connect the hard drive to a specialized piece of equipment. This equipment has been reverse engineered and allows us to work directly with the hard drives firmware in a similar way the manufacture does when they build the hard drive.
Next, we check to see if we have access to data only to find that in most cases we don't. We test and verify the firmware modules to locate any damage that may be present. We then work diligently to repair the problems with the firmware until we gain access to the physical sectors on the hard drives platters. This is often the most difficult and complicated part of the recovery process. We then check for encryption to find that in most cases the data is encrypted on WD My Book and My Passport external drives. We work through the encryption problem with our specialized machines until we are able to decrypt the data on your hard drive.
Next, we make a backup copy of your hard drives firmware modules into our machines database in the event they become corrupted during the recovery process. We then use our specialized machines to create a map of each head and zone area to get the drive ready to make a sector by sector image. We test each head individually only to find out that at least one head is still not reading data at all. This is often related to slight incompatibilities from the donor head stack.
We then use specialized techniques and commands to turn off the non reading heads so that we can safely start the imaging process. Our machines keep a map every sector of the drive in a separate file located in our machines database. The map allows us to power down the machine or the hard drive, repair additional problems and continue imaging right where we left off. It also marks each unread sector with a specific color so we can easily know if the sector has been read, skipped, or contains some level of damage. This allows us to come back to those sectors and attempt to read them again by sending new and specific commands to the hard drive.
This process is repeated until we complete a full image of the hard drive or until we are unable to copy anymore sectors. We have had situations in the past where we have repeated this process at least twelve times until we completed the full recovery of one of our customers WD hard drives. It's very common for us to repeat this process 3 or 4 times during a single hard drive recovery. Most companies would refuse to put that much effort into a single case but for us, it's not about the money. We are hear to make a difference and recover our clients data no matter the failure or difficulty of the situation. Complicated and difficult to recover situations allow us to learn and develop new processes and procedures that help recover data others can't.
Finally, When the imaging process has been completed, we move the image drive to a different machine where we work to repair any file structure damage that may exists. After any file system damage is repaired, we copy all the recovered data to a brand new USB external hard drive where one of our engineers checks the recovered data's quality and integrity.
Call us at 866-221-3111 for a free quote and additional information